https://www.habijax.org/wp-content/uploads/2022/08/Screen-Shot-2022-08-30-at-5.00.36-AM.png
1622
2880
Kevin Collison
https://www.habijax.org/wp-content/uploads/2023/04/HBJ35web1.png
Kevin Collison
2022-08-30 05:01:59
2022-10-18 08:56:54
August 2022 HabiJax News Update
Featured, News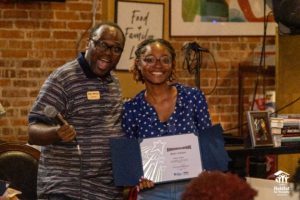 There will be 13 new Ospreys at the University of  North Florida this Fall, and on Tuesday, August 9th, 2022, seven Hicks Scholarship recipients, their families, and members from HabiJax joined together at The Cookbook Restaurant to celebrate their achievement!
Lance Hunt, the Hicks Program Manager, orchestrated the evening by welcoming the new students and encouraging them to meet the other recipients.
"You're going to be embarking on a new journey in life, and tonight, you have the opportunity to meet other students who will be in your same shoes", explained Hunt. "The sky is truly the limit for all of you, and I can not wait to see what you will achieve!"
Niaya Jones, a recipient of the scholarship, is looking forward to getting involved on campus and says that the scholarship will provide her with comfort and more time to focus on her studies.
Please join us in congratulating this year's recipients:
Darionna May – Raines High School
Ebony Brown – Raines High School 
Essence Sharpe – Ribualt High School 
Eryn Rhodes – A. Phillip Randolph High School 
Jaydon Ellison – Stanton High School
Joshua Tyus – Ed White High School 
Joshua Ancrum – Stanton High School 
Kelsey Mason – Raines High School 
Lania Floyd – Lee High School 
Nebthet Reid-El – Rains High School 
Neith Reid-El – Raines High School 
Niaya Jones – FSCJ
Tenisha Noisette – Raines High School
THE HICKS SCHOLARSHIP PROGRAM
Established in 1997 and provided by David and Ann Hicks, the Hicks Scholarship helps bring higher education within reach by providing scholarship funds at UNF to assist with the cost of tuition, fees, books and housing. Qualifying students can receive the financial support they need to complete their degrees with minimum student loans or other debts.Since its inception, there have been over 250 scholarship recipients.
Check out photos and a highlight video from the event below.
/
by Kevin Collison
https://www.habijax.org/wp-content/uploads/2022/08/IMG_2093-scaled.jpg
1707
2560
Kevin Collison
https://www.habijax.org/wp-content/uploads/2023/04/HBJ35web1.png
Kevin Collison
2022-08-15 14:54:54
2022-08-15 14:59:27
HabiJax Honors Hicks Scholarship Recipients
Featured, Project Highlights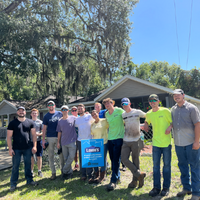 It's a long-standing program within the Habit for Humanity community, A Brush with Kindness (ABWK), which is an exterior home preservation program that offers painting, landscaping and minor repair services to eligible homeowners so that they can continue to live in safe, decent homes, for years to come.
This year our Volunteer Field Coordinator, Brent, reached out to a long list of current HabiJax homeowners who purchased their homes as far back as 2003. After conversing with the homeowners about potential needs, HabiJax sent teams of volunteers out to these homes to provide exterior work like landscaping, pressure washing, painting, and caulking.
Many of these homeowners came out and spoke with our volunteers and staff who were on site. One homeowner in particular, Tonya Daniels, came out to introduce herself to the crew and took a few moments during the morning meeting to share her story.
Tonya's home was the product of many women-builds and was built entirely by women! In addition, Ms. Daniels took a moment to share how HabiJax helped her out of the financial crisis she was in and even gave her the opportunity to start her own company which just recently made its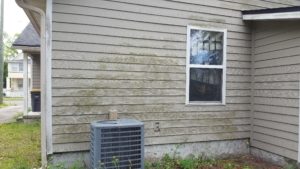 one millionth dollar.
All of the ABWKs took place over a period of four months and during that time HabiJax provided exterior work to 11 existing homes. Just when we thought ABWKs were winding down, Lowes graciously presented HabiJax with a $10,500 grant to provide ABWKs to 10 additional homeowners on Jacksonville's Eastside.
We want to give a huge thank you to Catherine Freeman and Chris Folds who works diligently on finding sufficient funds for all of the good work that HabiJax does in our community!
/
by Kevin Collison
https://www.habijax.org/wp-content/uploads/2022/07/achievement-3556674_1920.jpg
1336
1920
Kevin Collison
https://www.habijax.org/wp-content/uploads/2023/04/HBJ35web1.png
Kevin Collison
2022-08-10 23:26:21
2022-08-10 23:29:13
HabiJax Offers A Brush with Kindness!