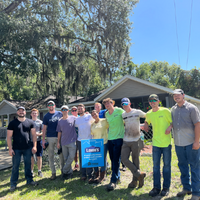 It's a long-standing program within the Habit for Humanity community, A Brush with Kindness (ABWK), which is an exterior home preservation program that offers painting, landscaping and minor repair services to eligible homeowners so that they can continue to live in safe, decent homes, for years to come.
This year our Volunteer Field Coordinator, Brent, reached out to a long list of current HabiJax homeowners who purchased their homes as far back as 2003. After conversing with the homeowners about potential needs, HabiJax sent teams of volunteers out to these homes to provide exterior work like landscaping, pressure washing, painting, and caulking.
Many of these homeowners came out and spoke with our volunteers and staff who were on site. One homeowner in particular, Tonya Daniels, came out to introduce herself to the crew and took a few moments during the morning meeting to share her story.
Tonya's home was the product of many women-builds and was built entirely by women! In addition, Ms. Daniels took a moment to share how HabiJax helped her out of the financial crisis she was in and even gave her the opportunity to start her own company which just recently made its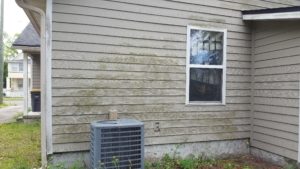 one millionth dollar.
All of the ABWKs took place over a period of four months and during that time HabiJax provided exterior work to 11 existing homes. Just when we thought ABWKs were winding down, Lowes graciously presented HabiJax with a $10,500 grant to provide ABWKs to 10 additional homeowners on Jacksonville's Eastside.
We want to give a huge thank you to Catherine Freeman and Chris Folds who works diligently on finding sufficient funds for all of the good work that HabiJax does in our community!
https://www.habijax.org/wp-content/uploads/2022/07/achievement-3556674_1920.jpg
1336
1920
Kevin Collison
https://www.habijax.org/wp-content/uploads/2023/04/HBJ35web1.png
Kevin Collison
2022-08-10 23:26:21
2022-08-10 23:29:13
HabiJax Offers A Brush with Kindness!